The Project: Landfall
Landfall search area
The landfall search area - a section of coastline where the offshore export cable could come ashore - has been defined through a process of engineering and environmental review and assessment. This process has taken into account a range of constraints including designated sites, nature reserves, land use, historic features and technical feasibility, which has narrowed down the possible location to between Clacton-on-Sea and Frinton-on-Sea. The precise landfall location will be selected during 2022 and the team will also incorporate relevant consultation feedback and environmental and engineering survey data.
There will be no permanent building at landfall, although there would be temporary disruption during the project construction. The objective is to keep any disruption to a minimum through the use of certain installation methodologies. At the landfall site it is proposed to use a technique called horizontal directional drilling (HDD), which will take the cable deep under Holland Haven Marshes Site of Special Scientific Interest (SSSI) and so avoid crossing the site. We have recently carried out a comprehensive suite of surveys of the SSSI to understand the ecological importance of the site and will continue to refine the plans, including input from our consultation work.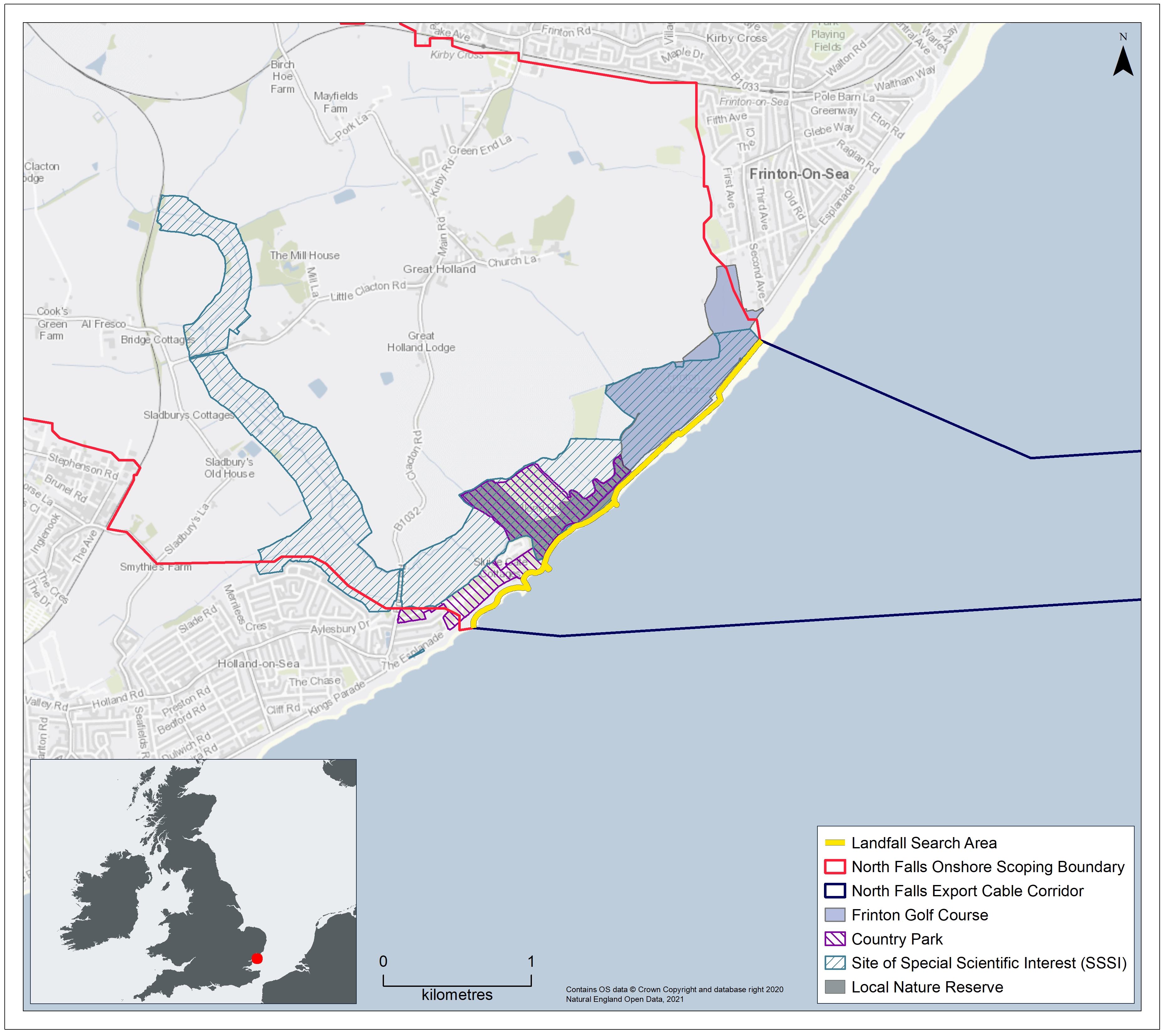 Download PDF
Section complete
Use the form below to update your answers for this section.
Feedback Questions
95% of respondents said they do make use of the coastal area between Clacton-on-Sea and Frinton-on-Sea.
The area between Clacton-on-Sea and Frinton-on-Sea is most popularly used for general recreation, hiking and rambling, with running/exercising, bird watching and dog walking also commonly enjoyed past times in the area. Marine recreation, golf and fishing were further down in terms of usage among the respondents but still very much part of the mix.
There was a wide range of responses to this question bringing up interesting points and issues for consideration. Of key concern was the wildlife reserve on the coast and potential impacts of the temporary construction works on local wildlife and ecology. Other issues that were brought up and that will be part of the project's assessment and considerations included the sea defences, the area's susceptibility to erosion and flooding, and its military history.
As this is a commonly used and proven technique employed in many linear construction projects to avoid sensitive areas and fixed features, most respondents agreed it seemed to be the best approach for cable installation to preserve and protect the landfall area. There were however some questions about its impact on local birds, particularly ground nesting species, as well as on wildlife.