The Project: Offshore
The offshore project area lies within the Outer Thames Estuary, in the southern North Sea. Its closest point to land is 22km from the East Anglia coast.
Offshore site
Like our sister project Greater Gabbard, the North Falls array area is split into two separate areas, with boundaries to take the existing shipping route into account. It will be within these two boundaries that turbines, array cables and offshore platform (substation) will be installed. The northern site covers approximately 21 km2 while the larger southern site covers approximately 130km2.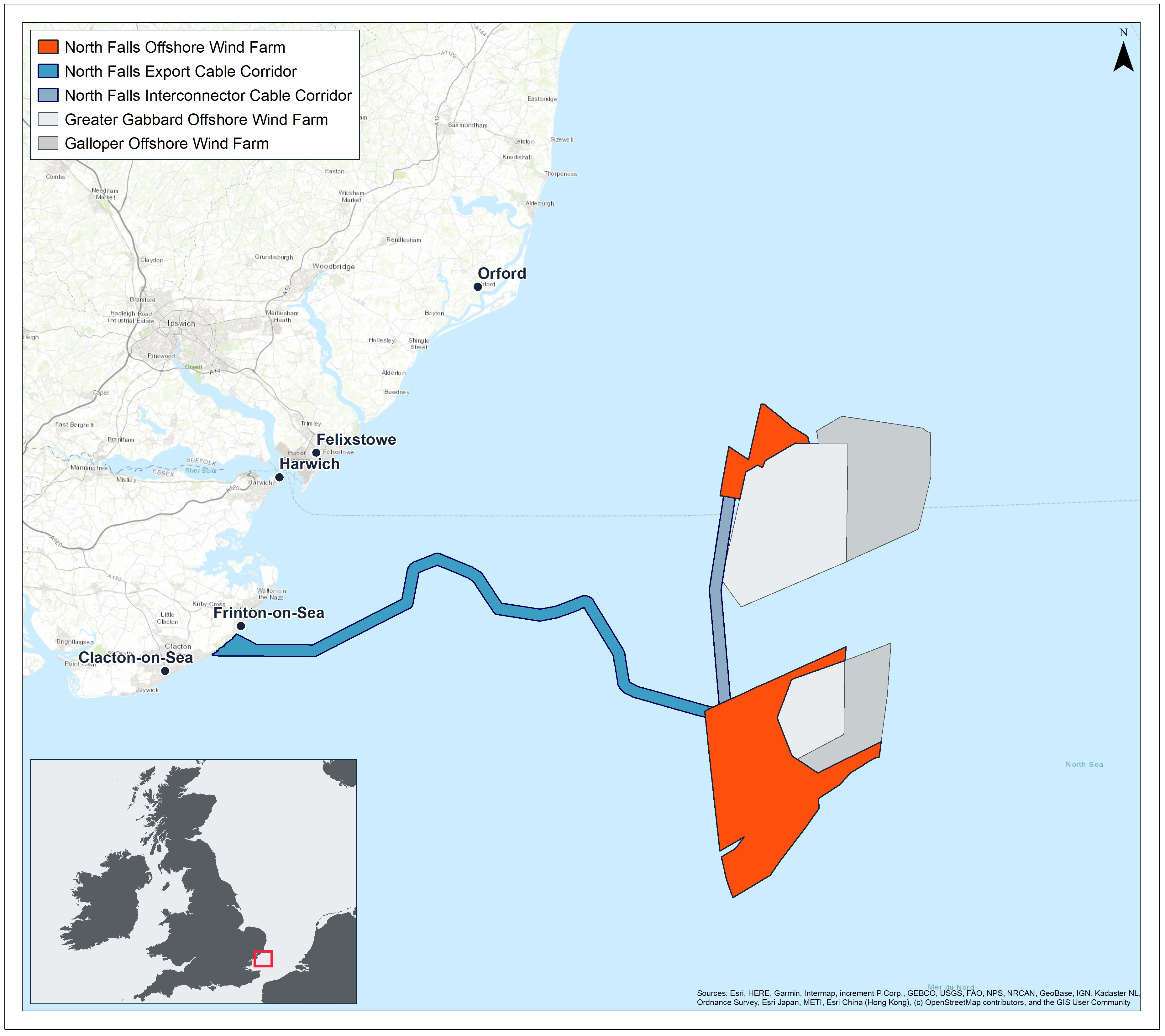 Download PDF
Export cable corridor
The electricity generated by North Falls will be transmitted to shore by export cables which will be located within an offshore export cable corridor. Our early planning works have identified a proposed corridor to run from the southern array area to a proposed landfall on the Essex coast between Clacton-on-Sea and Frinton-on-Sea.
The proposed offshore export cable corridor passes to the north of the environmental designations Margate and Long Sands Special Area of Conservation (SAC) and Kentish Knock East Marine Conservation Zone (MCZ), with a small overlap with the Outer Thames Estuary Special Protection Area (SPA) as it approaches landfall. A number of constraints were considered in the routing of the provisional offshore export cable corridor including: engineering feasibility; nature conservation designations; other offshore wind farms; shipping and navigation; dredging areas; existing infrastructure and wrecks. In additional to general shipping and navigation we have also taken into consideration other specific sea users in particular: fishing activity, aggregate and military use.
The project design also includes an interconnector cable between the northern and southern array areas.
Section complete
Use the form below to update your answers for this section.
Feedback Questions